7. Don't Bother Managing the SPE Project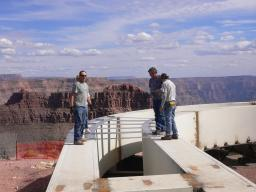 This is analogous to having no general contractor to oversee the skywalk construction project and just assuming that the sub-contractors will coordinate properly. There is an (apparently uniquely American) attitude that technology can substitute for good management. With SPE, that manifests itself as giving people the "go ahead" to do SPE and then not making sure that the steps in the SPE process are done at the right time, not delivering performance results in a timely manner, not using the results to make changes that are needed, and not validating the results.
SPE initiatives have failed because they began too late in the development process. SPE steps must begin early in development and be repeated as necessary to mitigate the risk performance failures.
We have also seen SPE initiatives fail because performance predictions were not timely. Analysts had many excuses for not producing those results, such as:
We can't get answers to our questions about system usage from the users, or the software design from developers, or the database from DBAs. They are too busy to respond to our memo now.
We have to wait for more important projects in the performance lab before we can get measurement data.
We can't retrieve all the measurements collected from the experiment.
We can't get answers about the measurement environment
We found some problems with the script, we need to re-run the tests.
Some of these excuses reflect a lack of buy-in from other stakeholders (see item 9). All of these excuses lead to delays in obtaining data and thus late performance predictions. This results in a loss of control of the software performance.
It is important to act on the information that the SPE activities provide. We saw one SPE initiative fail because results predicted that performance problems were likely, but the problems were not addressed before deployment. Developers claimed that corrective action would cause late delivery of the software so they postponed the changes until after they "met their schedule." The initial release of the software was unusable due to the performance problems, therefore the developers did not actually meet their schedule. The late corrective action took months longer and were thus much more costly because design changes were required—simple tuning changes would not suffice.
Finally, it is also important to carefully validate the results of the various SPE activities. For example, if model predictions disagree with measurements is it because: a) some important processing was omitted from the measurements, b) there was a problem with the measurements (e.g., data was not taken under steady-state conditions), or c) the models and measurements appear to disagree but are equivalent within experimental uncertainty? The course of action for each of these possibilities will be very different.
Consequences
As with most projects, lack of management increases the likelihood of failure. Project management requires a plan for the project. We saw in item 8 the problems, consequences, and solution for the lack of a plan and evaluation criteria. That step referred to the high level plan for the overall initiative. This item refers to the specific tasks, schedule, completion criteria, and evaluation criteria for SPE activities related to individual software development projects. Without this, other project pressures will take precedence over SPE tasks, each SPE task will take far longer than it should, causing SPE to lag behind development so results will not be available when they are needed.
Late results, provided long after the development decisions/actions must be made, are irrelevant—they won't be used. Coming back months later and saying "You should have done it differently" won't win you any friends. If results are not timely, or prompt action is not taken to correct problems, the value of using SPE is diminished. For example, if model results indicate that there may be a performance problem but that information is not reported in a timely fashion, or prompt corrective action isn't taken, it may end up being more time-consuming and costly to fix the problem.
If results are not validated, you can't be sure that predictions are accurate. You may predict that there are no performance problems, when serious problems may exist. Or you may waste time fixing a "non-problem."
Solution
Define management milestones, schedule, tasks, deliverables, etc. to ensure that useful results will be provided in a timely manner. Start with a pilot project so that mistakes and learning experiences can be made in a less critical situation. The experience gained on the pilot project can be used to develop best practices for future projects.
Deliver prompt results, even if they are tentative, to increase the likelihood that recommendations will be adopted and performance requirements will be met. It is possible to produce some best and worst case performance results with even sketchy information. If these results indicate dire performance risks, they will justify increasing the priority of the SPE tasks. It is easy to update the earlier best-worst-case models with more precise data when it becomes available and produce new forecasts.
Validate models to make sure that they correctly predict the performance of the software. If problems with the models or measurements are found, identify the deficiencies so that future SPE projects will be successful.