SPE-ED+ products implement Software Performance Engineering, a combination of the original SPE-ED™ product which is used by Performance Experts to analyze enterprise, cyber-physical & IoT systems designs & implementations; & the new 2017 automated modeling prototypes from our SBIR efforts.
SPE-ED™ is available for download as a demo version or full product suite. As the 2017 version, SPE- ED+ is under development & not yet commercially available, we are offering the original SPE-ED™ at a significantly discounted rate!
The SPE Method Saves Failed Deployment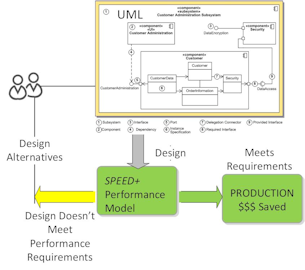 Contact us to learn more about how SPE-ED+ can guide you through your performance-oriented system design and implementation.